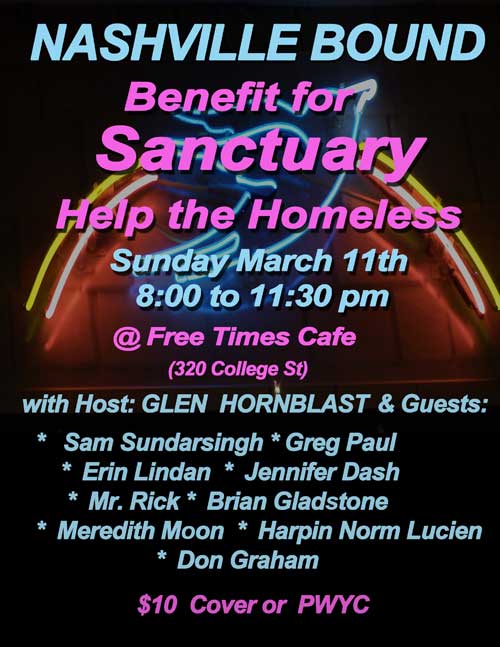 Mar 11, 2018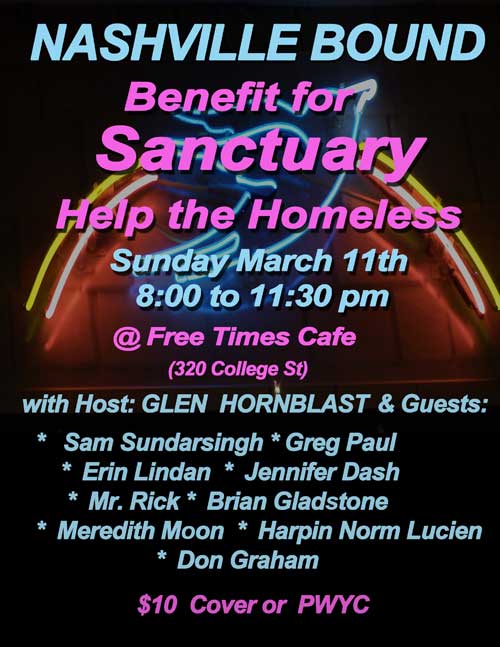 On Sunday March 11, 2018 at 8:00 pm at the Free Times Cafe, NASHVILLE BOUND is holding a BENEFIT for an organization that serves the Homeless in our city of Toronto – it's called "Sanctuary", which is situated on Charles St. just east of Yonge. "Sanctuary" is a Christian organization that has all kinds of support programs for the Homeless – as it says on their website, their purpose is:
"… sharing our lives and our resources, we reach out to a downtown neighbourhood offering dignity, support and direction to people who want to reclaim healthy, meaningful lives. Through drop-ins, street outreach and one-to-one relationships, we offer food, clothing and basic health care. Our staff help individual community members access welfare, housing, legal counsel, medical care, counselling, therapy or drug rehabilitation. Perhaps the most valuable thing we offer is simple friendship."
Well that's pretty darn good – providing friendship and caring and guidance for the homeless – and I know with the recent over-crowding of hostels in Toronto and the cold winter temperatures, these people could use some help and support.
So NASHVILLE BOUND has set up a BENEFIT at the Free Times Cafe (320 College St.) on Sunday March 11th at 8:00 pm to raise a little cash and a LOT OF AWARENESS for them and give them a big-time morale boost: The line-up of entertainers for this night is full of talent: Nashville Bound is a Songwriter's Showcase – so on this night we will feature some of the best songwriters in Toronto – as well as some of the folks who actually WORK at SANCTUARY – so this is the lineup:
FIRST SET – 8:00 pm: – Sam Sundarsingh – Greg Paul – Erin Lindan – Jennifer Dash
SECOND SET: 9:15 pm – Don Graham – Meredith Moon – Glen Hornblast
THIRT SET: 10:15 pm – Mr. Rick – Brian Gladstone – Harpin Norm Lucien
So the format at Nashville Bound is sort of similar to a Nashville-style Songwriter's Round – we put 3 or 4 songwriters on a stage and they all take turns playing their songs. Each performer will get to play 3 songs – and I can tell you this LINEUP is going to knock your socks off. From the awesome Sam Sundarsingh, the talented Meredith Moon, and the delightful Mr. Rick, I guarantee this is going to be a great show. These are all seasoned musicians who perform around Toronto and elsewhere – and they are all taking time out of their busy schedules to help the Homeless and help their COMMUNITY. Yay to them!
Free Times Cafe is located right at College and Major St, a block or so west of Spadina and has fantastic food. The Admission is $10 or Pay What You Can – but we hope people will be generous – because we all know the need is there – and the least we can do is to go have some fun and raise a little money for them.
HOPE TO SEE YOU THERE ON SUNDAY MARCH 11th AT THE FREE TIMES CAFE!
CHEERS,
GLEN HORNBLAST