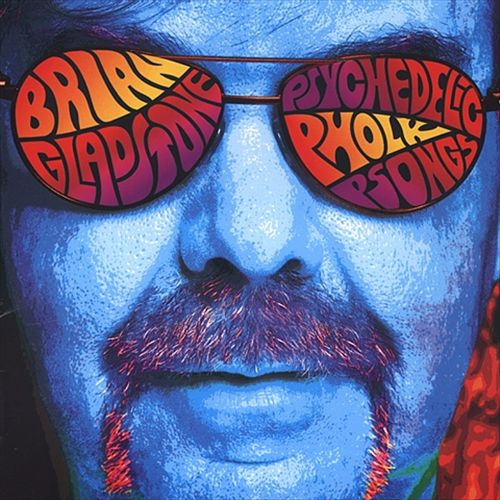 Toronto singer /guitarist Brian Gladstone is a finger-picking guitar master, a prophetic lyricist, a philosophical story-teller and a colorful performer.
The natural evolution beyond Brian Gladstone's first CD 'Back to the Dirt' – debut effort released in 1999 which gained world wide attention and remained in the top 100 World Wide Mainstream Charts for several weeks – is yet another all acoustic offering appropriately titled 'Psychedelic Pholk Psongs.'
As with Brian's first CD 'Back to the Dirt' – the sound throughout 'Psychedelic Pholk Psongs' is entirely acoustic; no electrical instruments used.
As with Brian's first CD 'Back to the Dirt' – the sound throughout 'Psychedelic Pholk Psongs' is entirely acoustic; no electrical instruments used.In fact, so committed was he to this ethic, when co-producer/engineer Robert Digioia plugged in the bass for a track, Brian went so far as to yank out the chord.
It was just a natural reflex action, he says. "I didn't really have a lot of predefined ideas of how the album should sound. I just wanted a very natural sound. I listen to a lot of folk music, and even when there's electric bass as opposed to acoustic bass, to me, it doesn't sound quite right. I just wanted a very pure unamplified sound."The nineteen tracks on 'Psychedelic Pholk Psongs' were recorded over a 6-month period at Brian's home recording studio, a quiltwork of spare parts picked up at music store blow-out sales.
There was no guidance system or grand plan in place–just a willingness to spend a few evenings each week playing whatever he felt. Quite often Brian would take a 20-minute break, jot down a few lyrics, and then bound back to the basement to record it exactly the way he felt it—at that precise moment. This home-based atmosphere, I believe, goes a long way toward explaining the personality and spontaneity that is always at the forefront and which gives everything on this recording a cosy intimate feel: a sense that the listener is almost there in person.You'll find yourself admiring Brian's confident finger-picking, a tip-off to his debt to all the masters. You'll hear him on both guitar and banjo. (there are four instrumental standouts on this collection). Some spicy, tasty, on-the-money solos were added by one of Canada's foremost acoustic guitar aces, Tony Quarrington. Other performers include legendary Daisy DeBolt, Ron Korb, and Maureen Brown.
Brian's song writing approach is freewheeling, so learning that the unexpected is to become the expected, while the predictable becomes the unpredictable, lies at the heart of his beguiling charms. Gladstone is a fastidious and humorous chronicler of all his experiences, whether they're based on fact or dreams.Even the most cynical has to succumb to the offbeat nature of Brian's playful and oftentimes paradoxical songs, with their solid grasp of imagery. One minute you'll be savoring a thought-provoking tune that illuminates: "Save the Wolverine" speaks about mankind's two-faced approach to nature with both self-fulfilling and self-destroying purposes feeding it. Later on, "Do You Think You're Dorothy" will explore the good and evil motif within the context of the Wizard of Oz.
There's a saying that patience is a virtue, which is why the unconventional and paradoxical underpinnings of Brian Gladstone's muse will invariably lead to a harvest of mischievous (and marvelous) delights on his new CD 'Psychedelic Pholk Psongs' – to be released in September 2001."Megacity Mel" and "Queen of the West" run the gamut from satire on the foibles of a public personality to a heartfelt commentary on the vain attempt of a non-entity to gain celebrity status.
Brian's paradoxical zaniness is grounded in reality, reminding us why Brian appeals to such a wide swath of discerning listeners, including those within the folk community.
But since he's constantly stretching out, experimenting, and testing boundaries, there are constant reminders of his intense respect for bluegrass, blues, Celtic, authentic country, and other root-based genres.Brian's first CD 'Back To the Dirt' released in 1999, has been listed at Number 86 in November of 2000 on the Worldwide Mainstream Country Charts based entirely on airplay, although he states "he's always thought he was more a folk singer at heart. The CD gets quite good airplay in Europe – they like the picking – some play on the U.S. Folk Radio Organization and acoustic radio shows, and little exposure in Canada". Brian regularly plays shows in and around Toronto, and is quite renown on the local music scene. After his signing with Comstock Records, a recent magazine article sited 'Hard Work Pays Off for Brian Gladstone' as an example and incentive for other artists that hard work and diligent self promotion pays back big time.
Brian Gladstone continues to promote, produce, and headline Toronto's annual 'Earthday Benefit Concert' every spring – the proceeds of which are donated to the Earthday Canada Organization. This year Brian was thrilled to performance a high profile set during Canada Music Week – an great honor bestowed solely on his new impact on the Canadian and Worldwide music scene. Brian is also now listed on the 'History of Canada Website,' in recognition of musicians who have made a significant impact abroad – recognizing massive amounts of attention and airplay in the USA, but mainly in Europe, Asia, and Australia.'Psychedelic Pholk Psongs' is the 'Only CD Which Guarantees to Restore Brain Cells Lost to Cheap 60's Drugs'.
Essentially Brian plays music because it's something that must be given expression to, a means of self-fulfilment, an artistic enterprise to gain meaning about society and one's own existence.There's absolutely no requirement to be a fan of the psychedelic era to appreciate 'Psychedelic Pholk Psongs'. This journey is guaranteed to take you on a thrilling ride on its own terms, with enough natural pleasure-giving endorphins to provide all the highs that are ever needed.