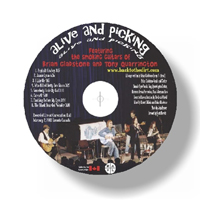 Recorded Live at Convocation Hall in Toronto
This dizzying, dazzling display of country-flavoured, almost funky, folk music is a superb live recording of well-chosen tracks from his debut and follow-up CDs, Back to the Dirt and Psychedelic Pholk Psongs – I'd forgotten how wonderfully Canadian his music is!
Along with stellar recording artists Tony Quarrington and Maureen Brown, Mr. Gladstone (the aptly nicknamed Asphalt Cowboy) has upped his profile again with the addition of long-time North American musical icon Allan Soberman, featured on tastefully subtle bass. Brian's sweet-voiced sister, Bonnie, has progressively acquired a large measure of self-confidence in her harmonies, which is no small feat, keeping up with Brian's own unique rapid-fire vocal patois.
I'm sure there will be people who feel the 8-song EP/CD was just too short to cover the best of the 34 songs Brian has previously recorded. In the meantime, though, they can console themselves with the studio versions on Back to the Dirt and Psychedelic Psolk Psongs while anxiously awaiting the upcoming CD of new material!
Hopefully he will be showcasing some of it at his second annual Toronto Winter Folkfest, of which he is the director and founder.
Robert Digioia (Maestro Fresh Wes, Chocolate Bunnies from Hell, Kim Mitchell, etc.), who also produced Back to the Dirt and Psychedelic Pfolk Psongs for Brian, handled the final mix of Alive & Picking, recorded by Reels on Wheels.
Reviewed by Diane Wells ("Rockin' the Blues from Canada")
ALIVE & PICKING – BRIAN GLADSTONE