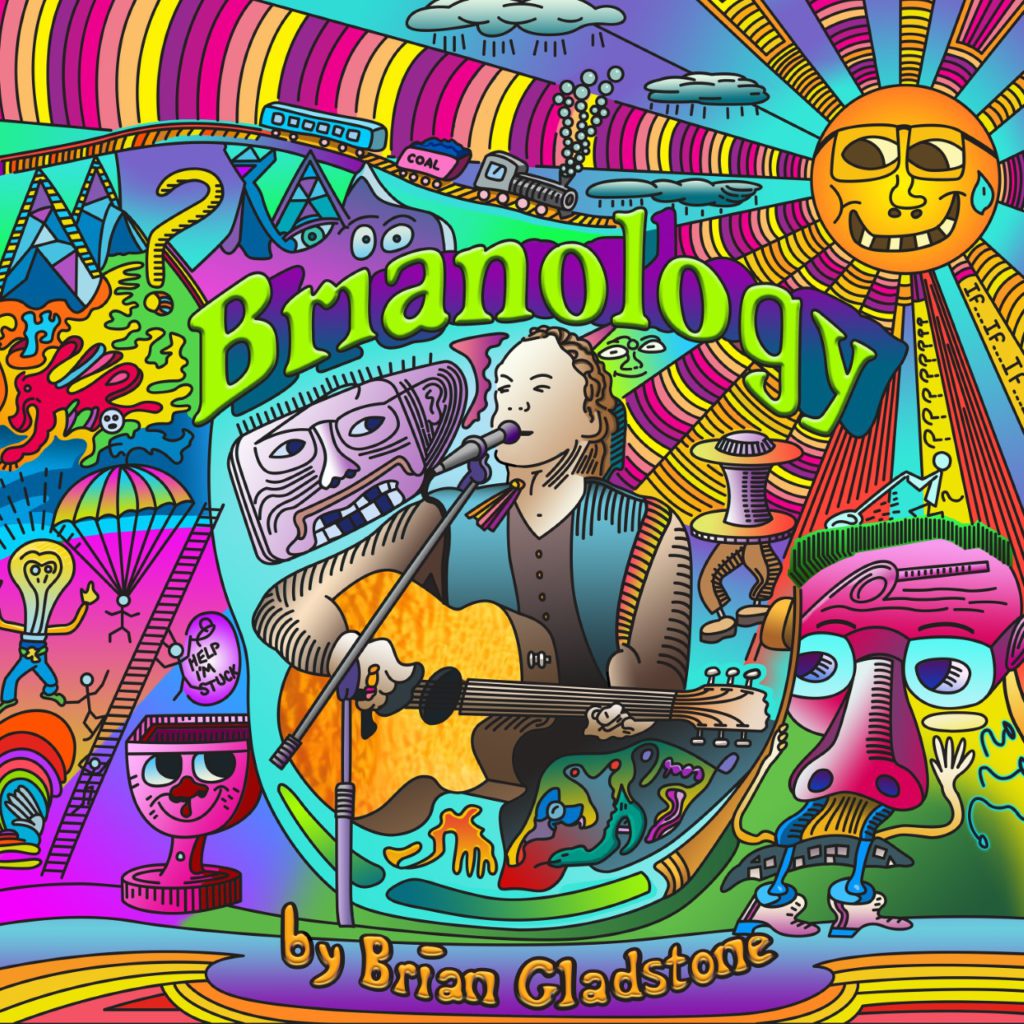 Like a good wine, great talent takes years to ferment before it's finally ready for consumption.
Brianology, the first album in a dozen years from folk singer, songwriter and first-rate fingerstyle guitar picker Brian Gladstone, is one such example.
Co-produced by Gladstone and the phenomenal Tony Quarrington and recorded in Toronto, Brianology finds the founder of Toronto's Winterfolk Blues and Roots Festival offering 13 resonating songs that retain Gladstone's peculiar quirkiness but – as Quarrington notes – project "more of an element of maturity and humanity."

Sprinkled among cheery up-tempo ditties like "Don't Bypass My Heart" and its classic line "The days are getting shorter/take care of my aorta" and the Canadian weather spoof "Waiting For the Summer," are sober themes dealing with transition ("New Boy,"), lost love ("Joy and Delight") and the economy ("When I Get a Dollar.")
"I've grown as a person and an artist," says Gladstone of his first album since 2005's A Time for New Beginnings, "There are silly songs. There are socially relevant songs. There are songs that make a statement. There are emotional songs. My style is pretty well all over the map."
It's a map that certainly reflects a number of journeys common to many, but simultaneously dips into fictional and realistic terrain to tell compelling stories buoyed by a simple musical backdrop.
"We wanted a simple and fairly transparent production that brings Brian's guitar out a bit more than the other albums," says co-producer Quarrington. "We wanted a nice broad range of material, different songs and tempos and moods."
Adds Gladstone: "My philosophy at the beginning of this project was 'less is more.' I grew up in the folk revolution in the '60s and I really wanted to make it how I would have heard one artist with a guitar – Phil Ochs or early Dylan. It grew beyond that, but the arrangements are really simple."
He also praised the efforts of engineer Margaret Stowe, who recorded and mixed Brianology at her Toronto-based Ozworld Studio, for the album's overall clear sound.
"I just made sure his words are clear and not obscure, so people can actually hear the story of the song," said Stowe, who also played lead guitar on "Lightning Man." "I also pay a lot of attention to clicks and breaths and guitar squeaks, things that distract from the track. If I can get rid of that, all the better."
Peter J. Moore, the Grammy-winning engineer who mastered Brianology, praised Stowe for her efforts.
"Marg did such a great job that I didn't have any real challenges. I didn't have to do any liposuction – just hair and makeup," Moore jokes.
Gladstone also maintains that the songs on Brianology, featuring such stellar musicians as Tony Quarrington and Noah Zacharin on guitars, Hotcha's Beverly Kreller, Tony Laviola, Dobro player Frank Barth, fiddler Aaron Solomon, Brian's sister Bonnie Gladstone on harmonies and many more, were arranged to capitalize on his finger-picking style proficiency.
I wanted a guitar album," declares Gladstone. "Some of my favourite albums are things like early Doc Watson or Chet Atkins. I'm a fingerstyle player and I wanted it to be a good old-fashioned guitar album in the country folk vein."
Achieved on all counts, Brianology is a refreshing and entertaining addition to the Brian Gladstone discography. Here is a track-by-track rundown of the album.
I Want More Time in Your Dreams is a heartfelt folk song about gallantry and being a white knight for women with Brian offering a tasteful fingerpicking solo.
New Boy cites environmental illness led by global warming, this gentle ballad is a wakeup call towards empowering the next generation and how they accept the challenge.
Don't Bypass My Heart is a lighthearted tongue-in-cheek love ditty pleading that "the days are getting shorter/please take care of my aorta."
Lightning Man is an encore presentation from The Songs of Tony Quarrington, this live recording is a Gladstone/Quarrington co-write about the life of inventor and physicist Nikola Tesla. Gladstone, a former magnetics engineer, provides the melody of this bittersweet biography.
Joy and Delight is the only tune not written by Gladstone. This delightful track is a Tony Quarrington composition that appears on Quarrington's Gathering Place: Songs of Toronto, this tender ballad focuses on a fictional ill-fated romance impacted by a factual early 20th century nautical disaster involving the Empress of Ireland on the St. Lawrence River. A beautifully sentimental song about lost love.
Going Home Down I-95: Every album needs a road song. A trucker views the road as an analogy of life: a continuous path of up-and-down adventures and experiences – and how he finds his equilibrium behind the wheel.
Lydney (Old Rockers Never Die) chronicles a Welsh town where aging rock stars live out their years of retirement – an old hippie commune located near a forest.
Waiting for the Summer is a playful, light-hearted toe-tapper that's both an ode to Chuck Berry and a statement of climate optimism.
Just Another Hero tells the tale of a sober anti-war protest song that mourns the death of Canadian soldiers but expresses the sentiment that the Highway of Heroes tribute that stretches down the 401 is not a suitable memorial.
Patricia is about an old girlfriend of Brian's specifically asked him not to write a song about her… so this is her song.
When I Get a Dollar is a wonderful ode with a slight country feel to family and simpler times of green philosophy: a return to roots, land and the way life was meant to be.
Behind the Maple Leaf Slaughterhouse Doors: A vegan anthem co-written with Tony Quarrington that uses nursery rhyme references to depict the masqueraded cruelty that occurs at a slaughterhouse.
Just Another Hero Bonus Track features a repeat track featuring Gladstone and his guitar showcasing his fine finger style playing. It's like the tracks he used to listen to during the folk revolution of the 1960's.
Brian Gladstone Discography
1999 – Back to the Dirt
2001 – Psychedelic Pfolk Psongs
2005 – Alive and Picking
2017 – Brianology
Website – www.biangladstone.com