Brian Gladstone is the founder and active festival director for Winterfolk, an annual blues and roots festival in Toronto since 2003, now a member of the FMO. (Folk Music Ontario)
Brian is the founder and president for the Association of Artists for a Better World, a registered non profit organization whose mission encourages artists and song writers to get involved in better world themes. We can use our voice to change the world, there is magic in our words.
Founded Toronto's Dr. B's Acoustic Medicine Show in 2006, a weekly open stage and jam session offering a stage encouragement for  youth and new talent. Its the premier weekly roots event in Toronto.
Projects Conceived and Promoted by Brian Gladstone include Concerts for Earth Day Canada, Folksingers for Peace Concert, Peace Love & Folksongs, Summer in the Square, Benefit Concert for Tsunami victims, Benefit Concert for Victims of Hurricane Katrina, Fundraising Concert for The Green Party of Canada
Brian Gladstone has conceived and produced many CDs with all proceeds donated to Earthday, New Songs for Peace,UN Foundations, and more!
Brian Gladstone has been recognized by the Following Organizations – and more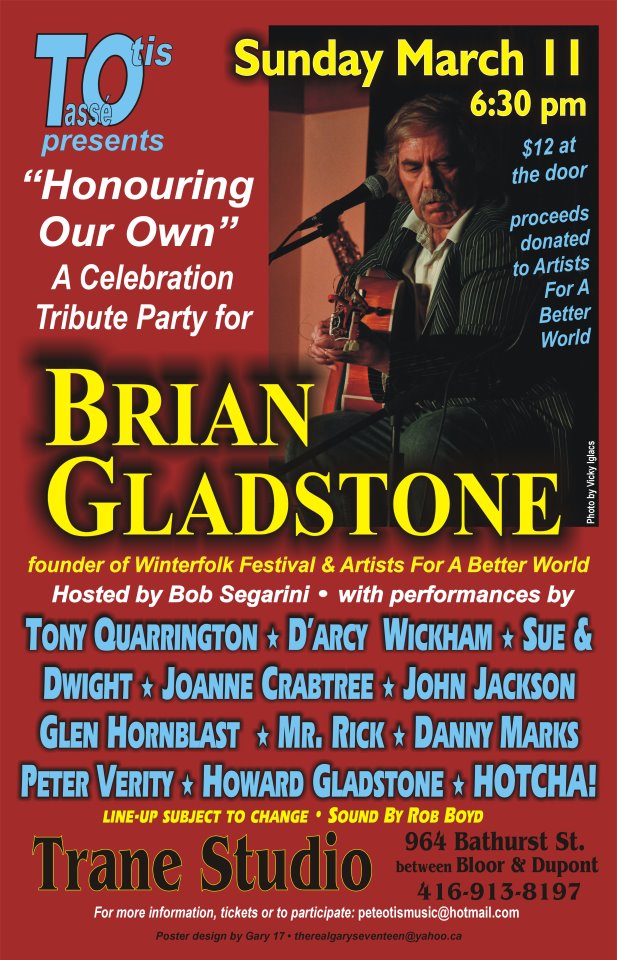 2012 – Recipient of 'Honouring Our Own' award for his long term contribution to folk music .(poster at left)
2006 – Certificate of Achievement from ICMA – Top 5 Downloaded Song, Two Years in a Row! (International Country Music Association) Signed by president Mary Watson, president.

2006 – BBC TV prime time TV series 'ITS NOT EASY BEING GREEN' used the music of Brian Gladstone in the episode aired on May 16, 2006.

PRIME TIME ROTATION on FM 97.4 Country FM in Australia and New Zealand, where Brian was the FEATURE ARTIST OF THE MONTH IN AUGUST 2004, resulting in distribution in both countries.

In December 2001, Brian was featured in a ONE-HOUR RADIO SPECIAL IN LYON, FRANCE.

PSYCHEDELIC PHOLK PSONGS was listed in TOP ALBUMS OF 2001 by Joe Vincent, Pirate Radio, Ireland, Jan. 2002

PSYCHEDELIC PHOLK PSONGS was listed on Gary Tate's TOP TEN CANADIAN ALBUMS as printed in to-nite magazine, Jan. 2002

Brian's tune CAR SONG gets 50,000 (fifty thousand) PLAYS AWARD from Colonel Patterson, President of ICMA (International Country Music Association), Feb. 2002

PSYCHEDELIC PHOLK PSONGS was rated as FIVE STARS by the International Country Music Association in March 2002.

PSYCHEDEDELIC PHOLK PSONGS was listed on FIVE major European charts based on radio plays, including Spain, France, Italy, Denmark, and Germany

COVER STORY on F0LK WAX MAGAZINE, Aug. 2002

PSYCHEDELIC PHOLK PSONGS signs with SILVERWOLF RECORDS Vermont (label of Josh White Jr., Odetta, Kingston Trio, etc.)

Awarded HONORARY LIFETIME MEMBERSHIP in COUNTRY DJ ASSOCIATION OF BELGIUM presented in person by president MIA Brian Hanlan

ARTIST OF THE WEEK by STARDUST
RECORDS (world's largest independent record label) by COLONEL BUSTER DOSS
Brian Gladstone has been Featured in over 100 publications, including the Following  …
and more Toronto Star, Toronto Sun, Toronto Globe and Mail, Now Magazine, Eye Magazine, To-Nite Magazine (Cover Story!), Penguin Eggs Magazine, Alt. Culture Guide feature 'View on Pop Culture' (California), Folkwax Magazine (Cover Story!),PSYCHEDELIC News (Hungary) ,PSYCHEDELIC Fanzine, Rocking' the Blues (Hamilton), Country Meeting Point (Europe), Entertainment News (Texas), Allegro Record Reports, Blues on Stage, Music Morsels (USA), Country Interviews (Texas), Country Grapevine (Florida), Nail Online, Stardust Record News, Westernstore.de-Community – NEWS – (Germany), Folk Rag (Australia), Outer Shell Magazine (Florida), International Country Music Association Newsletter (Spain), PSYCHE VAN Der FOLK (Belgium), 701 Arts and Entertainment (Hamilton), INDIEcator (Michigan), Canadian Music. Com, CanEhdian.com, Country Home Magazine (Germany), HHGI Guitar Magazine (California), Guitar-9 Magazine, Rambles, Acoustic Guitar Review, Yellow Pencil, Culture Raven, Country Western Corner, Folk Rag, Music Morsels, Plug in Music, and more.
Brian Gladstone has performed over 1000 gigs, including these clubs/ festivals… and many more
Nashville Songwriters Festival, CBC live TV, El Mocambo (Toronto), Healy's (Toronto), Hugh's Room (Toronto), Silver Dollar (Toronto), Convocation Hall (Toronto), Dartmouth Festival (UK), Toronto City Roots Festival, Tranzac Club, Mel Lastman Square (Toronto), Freetimes Cafe, Rancho Relaxo, Corner Coffee House (Newmarket), Cameron House, Renaissance Café, Silver Dollar, The Boat House, Sessions, The Fulcrum, Brunswick House, Comfort Zone, Urban Café, Black Swan, Chicago's, Staircase Theatre, Wolf's Howl Pub, Café May, Metropolitan United Church, Indigo Books, Rasputin's (Ottawa), Oasis Songwriter's Series, and more. and various clubs across Ontario plus festival such as …. Festivals and more … Mariposa Festival, Live From the Rock (Red Rock, ON), Summer Solstice Festival (Fergus), Winterfolk Festival (Toronto) – Founder/Director, Canada Music Week (twice!), Benefit Concert for Earthday Canada, Spring Rise Festival, Summer Solstice Festival (Toronto),Toronto City Roots Festival, Salty Jam Festival (St. John NB). Winterlicious (Toronto City Hall), Peace, Love & Folksongs, Folksingers for Peace, Picnic for Peace, Tin Pan North, Nashville Songwriters Association, and many more.
Brian Gladstone has shared the stage with the following, plus more great artists and friends …
Tom Rush, Michael Smith, Matt Andersen, Steve Payne, Danny Marks, Josh White Jr., Jack de Keyser, Michael Pickett, Ian Tamblyn, Tony Quarrington, Ken Hamm, Ron Nigrini, Wendell Ferguson, Norm Hacking, Terry Tufts, Shane Simpson, Brian Blain, Grit Laskin, Rick Fines, David Rotundo, Julian Fauth, Lynn Harrison, Noah Zacharin, Laura Fernandez, Daisy DeBolt and many more.
Brian Gladstone has been a Guest on These Programs …. and more –
Fresh Air CBC with Jeff Goodes, One hour radio special on CKFM 99.9 with Wayne Webster, One hour Radio Special Radio featuring PSYCHEDELIC Pholk Songs in Lyon France, CFRB 1010 with John Donabie, 680 News with Gloria Martin, Acoustic Routes CKLN, Blues Radio 91.1 with Danny Marks, The Food Guys with Marty and Avrum CFRB 1010, Ken Stower CIUT 91.1, 'Just Us Folk' with Host Jan Vandehorst CKPC FM 92.1 Radio Brampton, and many more.