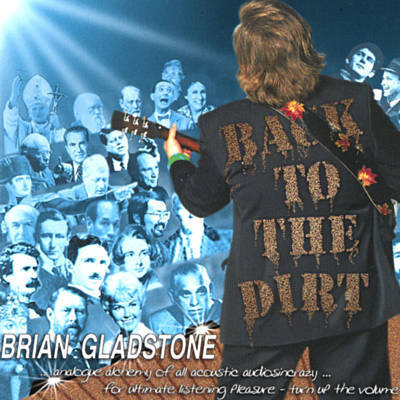 Brian Gladstone is a finger-picking guitar master, a colorful story-teller and an intuitive performer.
His debut CD, Back To Dirt, is an all-acoustic offering, on which he plays all the instruments.
Brian has recently been signed to award-winning independent label Comstock Records and 2001 tour plans include a stint at Valle de Bravo, situated just outside of Mexico City, Ambassador Charlie Ray's Music Festival, an annual east coast music festival and a key showcase for Canadian Music Week, and is again headlining the annual benefit Concert for Earthday Canada.
Wolf Hassel, formerly of multi-platinum Canadian pop act Frozen Ghost, who wrote the album's liner notes, calls Brian's songs "new, unique and quite out of the ordinary…a tapestry of feelings, emotions and collective memories. "From the topical fave "Cyberbabe", intriguing fiction "Who Killed Betty Two Shoes", universal secret "Caren42", and socio-political message "Children of the Sun", Brian's songs have received airplay on stations throughout the United States, U.K. Europe, Australia, and Canada. Self-described as "an analogue guy trapped in a digital world,"
Brian made a point of not using electric instruments on Back To The Dirt. In fact, so committed was he to this ethic, when producer/engineer Robert Digioia plugged in the bass for a track, Brian went so far as to yank out the chord. It was just a natural reflex action, he says. "I didn't really have a lot of redefined ideas of how the album should sound. I just wanted a very natural sound. I listen to a lot of folk music, and even when there's electric bass as opposed to acoustic bass, to me, it doesn't sound quite right. I just wanted a very pure unamplified sound. "
Recorded at his home studio, Brianworks, the guitar collection employed a variety of his prized possessions on the 15-song Back To The Dirt, including a Gibson Starburst Elite, Ovation, Martin D35, Silver Dobro and Epiphone. He also employs a variety of other instruments from a wood block and wood flute to shakers and wooden spoons.
What's unique about Back To The Dirt is how Brian manages to work within the folk frame, but bringing in an assortment of textures without weighing the song down. "It was a matter of listening and figuring I need a slide here, a banjo there," he says. Although Brian had clear ideas about his songs, Robert's forte was encouraging a stellar performance from this new recording artist. In all the years Brian had been playing guitar – since he was 14 years old — he had never given a thought to releasing a CD until his son beat him to it.
Until then, Brian had been content picking up the instrument and immersing himself in it for several hours a day. "If I don't play, something's missing. My fingers itch. I have to play," he says. Inspired by artists such as Peter, Paul & Mary, Bob Dylan and Gordon Lightfoot, Brian has always written songs, but other priorities directed his life's path. He is actually a magnetics engineer by trade, like his hero scientist Nicola Tesla, the only figure who appears to be making eye contact on the artwork of Back To The Dirt. "At one time, I actually thought I was sent to earth to finish his work believe it or not," he admits with a light chuckle. "I have a lot of inventions and patents that I do."
Brian has put that on the back-burner in order to tour behind Back To The Dirt. He gigs regularly at local clubs Silver Dollar Room, Free Times Cafe, Grossman's Tavern, Graffiti's, Kokomos, Indigo Cafe, the Artful Dodger and Studio K's .Brian's CD 'Back To the Dirt' has been listed at Number 86 in November of 200 on the Worldwide Mainstream Country Charts based entirely on airplay, although he states "he's always thought he was more a folk singer at heart. The CD gets quite good airplay in Europe – they like the picking – some play on the U.S. Folk Radio Organization and acoustic radio shows, and little exposure in Canada. Hopefully the gig at Canadian Music Week and some local festivals will increase Canadian exposure. "Brian is also working on his sophomore CD effort, which is tentatively titled Psychedelic Pholk Psongs and will offer ten new songs, including some exciting live cuts. Key dates are arranged for some European festivals in the summer of 2001, and Brian hopes to book some local gigs at Canadian Festivals this summer.
With plans to release Psychedelic Pholk Psongs in the summer of 2001, there's no telling what's in store for this muti-talented Canadian artist.