Reprinted from CJN, Written by Ruth Schweitzer – At Dr. B's, mature musicians mentor emerging artists, just as Gladstone was coached by Norm Hacking, a champion of local folk and roots artists who hosted Norm's Living Room, a similar event that ran until 2002.
Gladstone taught himself how to play guitar in the evenings while his children were sleeping, when he was a single dad. He learned how to fingerpick guitar at a rapid pace and wrote some striking original songs for his debut album, Back to the Dirt, which was recorded in his basement in 1999.
CD in hand, Gladstone approached Hacking at his open mike. "I was very shy. I'd never played before an audience, and he was encouraging, he was nurturing, he gave feedback," Gladstone said. "I was ready to call it quits because I had no confidence. At my open stage, I try to give back what I got. I owe a lot of my success today to Norm's Living Room."
Gladstone went on to release four more albums to critical acclaim worldwide, perform at over 2,000 live shows and attract media attention.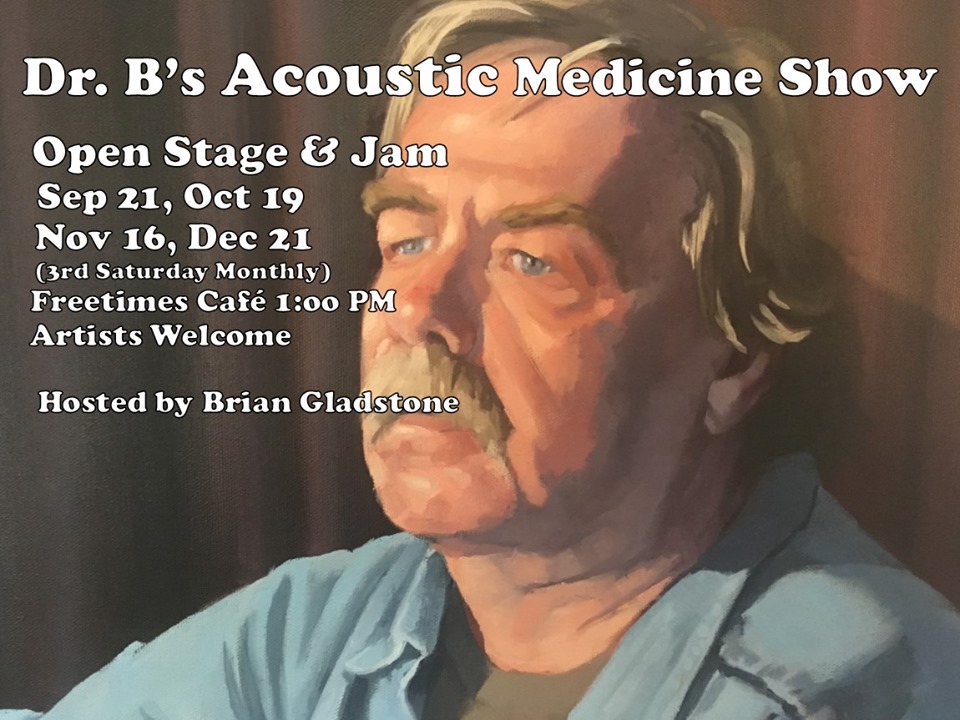 Gladstone said his sister, Bonnie, was a typical frightened new performer when she first sang at Dr. B's, but after giving her stage time week after week, she gained confidence. "A confident performer puts on a better show, rather than one who's worrying about singing off-key," Gladstone said.
Bonnie Gladstone now sings gorgeous harmonies with her brother in the Brian Gladstone Band and has been performing solo recently.
At events like Dr. B's, artists often forge partnerships and end up collaborating, writing and performing together. Through networking in the singer-songwriter community, an emerging artist might meet a club owner. "For a lot of emerging artists who are not connected to the industry, it opens a lot of doors," Gladstone said.
He stressed that stage time translates into the development of artists' performance skills, including the ability to manage audiences. "Managing an audience is a learned skill, not a natural talent. You have to read the audience," he said. "Many times I do that and I change my performance half way."
Gladstone said when new artists step up on Dr. B's stage – whether they are performing folk or roots music, jazz or Latin music – he can see how dedicated they are by how well they play. "The most successful artists are seldom the ones with the most talent. They're the ones that work the hardest, always. And that's one of the things I instill into new performers," Gladstone said.
Performing at Dr. B's could also be an audition for Toronto's Winterfolk Blues and Roots Festival, as Gladstone is the director of the annual event. He said talent is a given when he's considering booking an artist, but he also looks for artists who are promoting themselves on social media, selling out shows, getting airplay and good reviews.
"We look for artists who are playing at least four to five times a month. We think that if we've heard of them, then our audience has heard of them and they're capable of filling a room," he said.
Dr. B's runs on the third Saturday of each month, starting at 1 p.m. at the Free Times Cafe, 320 College St., Toronto. Visit www.briangladstone.com and
www.winterfolk.com .