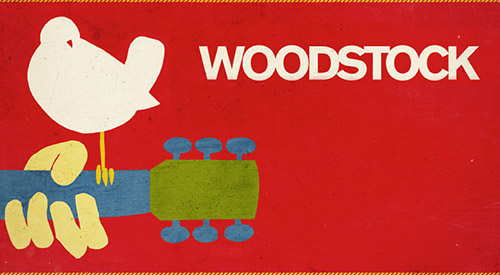 Jun 19, 2019
By Ruth Schweitzer – Printed in CJN June 10, 2019 – Nearly 50 years ago more than 400,000 young people gathered at Max Yasgur's farm in White Lake, N.Y., for the Woodstock music festival.
Woodstock – from Aug. 15 to 18, 1969 – was the monumental event of the 1960s hippie movement, Toronto musician Brian Gladstone, who attended the event, said.
Woodstock is also regarded as a pivotal moment in popular music history and holds the number 19 spot in Rolling Stone magazine's "The 50 Moments That Changed the History of Rock and Roll." Some of the bands and performers included The Band, Jimi Hendrix, Janis Joplin, Jefferson Airplane, Joe Cocker and Santana.
"When you were there, you were in an enchanted area. I knew it was special and I felt like we were shut off from the rest of the planet. It wasn't until a month later I knew we were making history," Gladstone said.
The festival grounds were dry the first day when folk music was featured. Gladstone and his musician brother, Howard, watched, among others, Richie Havens, Arlo Guthrie and Joan Baez. "From our chosen spot on the big hillside, the stage was visible in the distance, and the music lazily rolled uphill," Howard said.
But when the rain came, on the second day, turning the festival grounds into a sea of mud, it was "bad, bad and bad," Toronto artist Linda R. Goldman wrote in her diary. "The mud is atrocious. I went for a walk and felt quite hopeless surrounded by masses of people."
Goldman and her friend, Linda Sabo, were invited to stay in one of the tents set up by the Hog Farm commune. Not only were the two women sheltered from the rain, they also ate at Hog Farm's free kitchen. Food was in short supply at Woodstock, in part because more than twice the expected number of people showed up for the festival.
Goldman and Sabo shared the tent with a couple, Nancy and Eloy Hernandez, and their five daughters. "There was a small stage and Hog Farm musicians were always playing guitar and singing, and there were lots of little naked kids and babies running around," Goldman said.
One of the iconic activities at Woodstock was nude swimming, scenes of which are featured in the Woodstock movie. At that time, with a sexual revolution in full force, attitudes toward nudity were changing. "When we went swimming in the lake, I saw so many nude people. I thought I was so cool because I went to Yorkville," Goldman said, referring to Toronto's Yorkville Avenue, Canada's hippie heartland from 1967 to '69.
"But for a nice Jewish girl from Bathurst Manor (North York), nothing prepared me for the nudity," she added.
Along with the music, sex and drugs were part of the Woodstock story. Goldman said she wonders how many babies were conceived at Woodstock. "There were a lot of drugs. I can't deny it. Every time we went into our tent, people were smoking up," she added.
Goldman is hosting a Woodstock 50th anniversary at the Miles Nadal Jewish Community Centre on June 13 from 1 to 3 pm. She'll read from her Woodstock diary and various singers will perform classic songs from Woodstock. Tickets ($5) are available on the morning of the program.