Apr 6, 2000
By Gary Tate, Cover
Story To-Nite Magazine, April 2000

Brian Gladstone's CD Back To The Dirt is a barrel of contradictions: light, breezy, and fun-loving one moment, then dark, brooding, and acerbic the next.
Even the author acknowledges this by prefacing his liner notes with a definition of the word "paradox." He sees himself a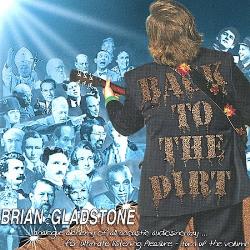 s a paradoxical soul, in his own words "a package … of apparently oppositional forces that allows for the creation of something new, unique, and quite out of the ordinary." Or, as he is fond of saying": "An analogue guy trapped in a digital world!"
Back To The Dirt is a mirror of one man's observations, emotions, feelings and memories captured in a basic acoustic setting, no electrical instruments required, no sonic manipulations needed. It's as basic as delving into an old black and white photo album of one's past, which can also be a weird experience.
There are 15 tracks of "psychedelic folk music", jam-packed with enough lyrics to cramp up a full 8 pages of liner notes. Brian often provides a running commentary on his writings. So "Tripping Around", originally based on the dismal topic of bagels and lox, was transformed into a more standard theme: the proverbial rabbit outsmarting the fox, thanks to a suggestion from Sister Bonnie. If this guy isn't a compulsive diary-keeper, then my name is Preston Manning!
Here are just some of the sundry topics explored on Back To The Dirt: bag ladies, the terrors of driving the Don Valley, cybernetics, the diminishing environment, fetishism, cars, black-bearded wonders, and of course, crazy, hard-hearted women. Ironically, the only instrumental is titled, if you please, "Lengthy Diatribe."
Gladstone also manages to cram, both in his written acknowledgements and directly or indirectly within the music itself, virtually all the "people" he has encountered or been touched by during his lifetime, including Johnny in the Basement, his ex-dog Oreo, Queen from another lifetime, Ms. Wrong, Caren 42, the poker boys, and about half of all the recording artists from the 1960's.
In all seriousness though, this undertaking is a very intimate voyage of self-discovery, and along with Sister Bonnie on harmony vocals it has a very definite Peter, Paul, and Mary-vibe to it, hardened by a Dylanesque edginess. Brian handles all stringed instruments, including guitar, Dobro, and acoustic bass, and his sure-fire finger-picking style testifies to years of practice.