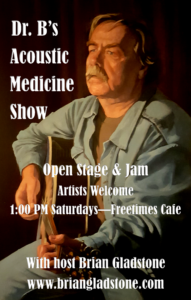 Saturdays at the Freetimes Cafe
Third Saturday at the Freetimes Cafe at 1:00 in the Afternoon
Join us for an intimate afternoon of great acoustic music, every Saturday.
We want to create a place for artists, friends, and fans to hang out.
Players Wanted Sign Up starts at 2:00
Come Out to Hear The Great Music
Come out to Meet Your Friends
Come Out to Play Some Tunes
The Room: It's an intimate listening room filled with creative energy to enjoy some great music, and a place for artists to come out to meet their friends. The food is excellent!
Who Can Sign Up to Play: All artists welcomed. Come in and put your name on the sign-up sheet to reserve your spot.
What: Saturday Sessions at the Swan is an artist's stage, open to all.
When: Saturday at 1:00.
Where: Freetimes Cafe, 320 College St. Toronto.